6 Best Pressure Assist Toilets: Pressure Assisted Toilet Reviews, Buyer's Guide and Care Tips Included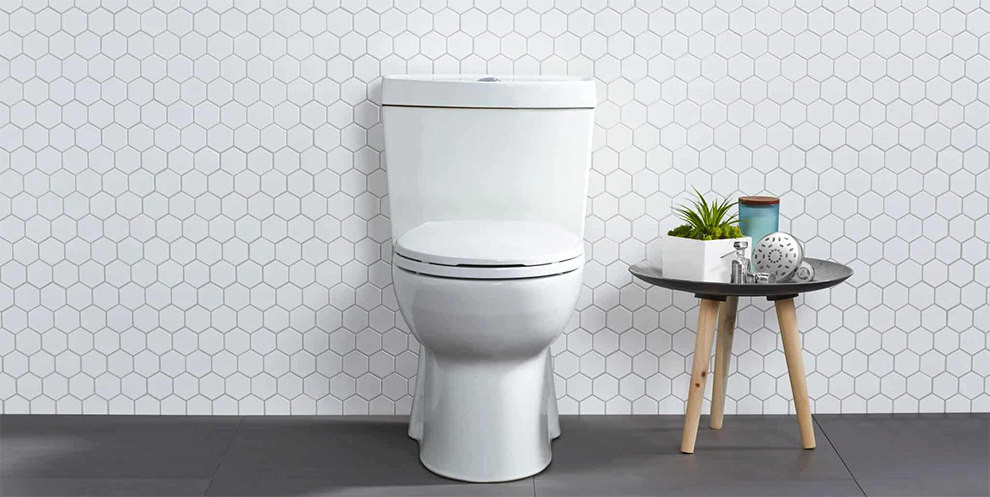 Are you tired of plunging your toilet time and again? Does your toilet fail to clear out the entire waste in one go? Do you have your plumber on speed dial because your toilet requires frequent overhauling? Well, these issues are quite common with the traditional gravity flush toilets found in most households. However, there is an ingenious solution to this pertinent problem, and that is replacing your toilet with a pressure-assist toilet.
The best pressure assist toilets not only have improved flushing efficiency, but they can also be quite economical for water usage. While these toilets are already in use in commercial places, manufacturers have also come up with some great household options in the best pressure assist toilets category. And, according to the pressure assisted toilets reviews, the latest models are also much quieter compared to the older makes.
In case you are unsure which will be the best pressure assisted flush toilet for your home, we have got you covered. After checking out the best pressure assist toilets available in the market and based on the popular pressure assisted toilets reviews, we have curated a list of top six models that should be on your radar. We will discuss the pros and cons of owning each of the best power assist toilets as well as the features that you must take note of when comparing any two models.
Quick Navigation
Our Top Picks
| | | | |
| --- | --- | --- | --- |
| Product | Price | Rating | Shop Now |
| American Standard 2467016.020 Cadet Right Height | $365 | 4.4 | Buy Now |
| Kohler K-3493-96 Highline Classic Pressure Lite | $406-$572 | 4.4 | Buy Now |
| Zurn Z5572 Dual Flush Pressure Assist Toilet | $451 | 4.9 | Buy Now |
| Kohler Wellworth Classic Pressure Lite | $362.74 | 4.8 | Buy Now |
| Toto MS920CEMFG#01 1.28-GPF/0.9-GPF WASHLET | $2359 | 4.5 | Buy Now |
| American Standard 2876.016.020 Yorkville | $565 | 4.4 | Buy Now |
Best Pressure Assist Toilets You Must Check Out
Advantages and Disadvantages of Pressure Assisted Toilets
Advantages
Powerful Flush – Most people switch to the best pressure assist toilets for their powerful flushing mechanism that clears out the waste in one go.
Low Water Consumption – Since these toilets use the additional force of compressed air, they consume lesser water and, therefore, put a lesser load on the plumbing system. Moreover, they work independently of the quality of water coming to your homes. So, a weak supply line in an apartment or office will not reduce the effectiveness of the flush.
Cleaner Bowls – Pressure-assist toilets are better for maintaining cleaner bowls in multiple-use houses since their powerful flushing ensures that no streaks or waste are left behind.
Smaller/Lighter Bodies – These toilets are also smaller than the gravity-fed models and are more apt for smaller bathrooms that have multiple users.
Better For Humid Climates – The best power assist toilets are free from condensation since they hold water in a sealed tank and as a result harbor less mold and bacteria growth on the surface.
Disadvantages
Noisy – Though the technology has come a long way, even the best pressure assist toilets still make a lot of noise and can be quite disturbing for others at night.
Costly – Pressure assist toilets are more costly compared to the gravity-fed models.
Expensive Spare Parts – Since they have a complex flushing mechanism, their spare parts don't come cheap. Plus, they cannot be mended on your own and require professional help, which further escalates the cost of repairs.
Fewer Design Options – These toilets have limited offerings in terms of aesthetics and design of the tanks mostly because their tanks need space to include the pressure vessel.
Difficult to Modify – While the gravity-fed toilets are easy to modify to improve their performance, thepressure-assisted models are not easy to maneuver with. Plus, they are already working on maximum efficiency so it is worthless to put that extra effort.
Guide for Buying the Best Pressure Assist Toilets
Noise Level
Do read the top pressure assisted toilets reviews of your shortlisted models before you head out the make a purchase. Because, despite being the best power assist toilets, most of the models tend to make a loud noise due to the force of the water which may not be very pleasing for some users.
Flush Efficiency
When comparing the efficiency of the best pressure assist toilets, make sure that the flushing mechanism is powerful enough to clear the waste in a single flush and uses minimal water to do so. This can be checked by comparing different pressure assisted toilets reviews. Also, an efficient toilet should require less frequent cleaning. One way to ensure this is to look for models that come with a glaze coating such as EverClean® surface by American Standard or the CeFiONtect coating by TOTO.
Water Consumption
The best pressure assist flush toilets available today use 1.6 GPF or less per flush which can be highly economical in saving water and bringing down your water bills. If you are willing to invest, you can also go for dual flush toilets as they consume even lesser water for liquid waste using 0.9 to 1.1 GPF per half flush.
Rough-in Measurement
Do take note of the rough-in measurement before purchasing the best power assist flush toilet, since these toilets are expensive and you do not want to end up purchasing a unit that doesn't fit in your bathroom. If you don't know what a rough-in is, it is the distance from the wall behind the toilet to the middle of the flange that aligns with the center of the bolts of the toilet. Most of the toilets come with a 12-inch rough-in. However, to be more accommodating, manufacturers also give options of 10-inch and 14-inch rough-ins in some models.
Bathroom Dimensions
It is extremely crucial to consider the available floor space in your bathroom before you begin scouting for the best pressure assist toilets. If the dimensions are not very accommodating, you must go for more compact designs rather than buying the standard elongated bowls.
Brand Value
While there may be new entrants offering great features at great prices, it is always better to go for a well-established brand as they have a reputation to keep up and will not compromise on the quality. Moreover, their customer support and after-sale service are also better than the new manufacturers.
Color
Though a highly overlooked factor, you must check out the color options available in the best power assist toilets. If you are not very fond of the boring white, toilets are also available in beige, black, biscuit, and other shades. Since the toilet is a major element in the bathroom, choosing a commode that matches your bathroom color theme can uplift the entire décor.
Budget
Pricing is a major factor that alters our buying decisions. So, before you head out to buy the best power assist flush toilet for your home, set a budget in your mind and stick to it. There are many highly-priced options that can be alluring, but an efficient and good looking pressure assist toilet can be bought for under $500.
Warranty
Another overlooked factor is the warranty cover. Top manufacturers offer a good warranty against the toilet body as well as flush mechanism of the best pressure assist toilets.
Pressure Assisted Toilets Reviews
You can learn from other's experiences. Reading online pressure assisted toilets reviews is a smart way to gauge whether the best pressure assisted flush toilet lives up to its expectations.
Frequently Asked Questions
How Does a Pressure Assist Toilet Work?
Instead of visible water inside the tank, the best pressure assist toilets feature a sealed plastic vessel that compresses air inside as the water is supplied to the chamber. Once the flush is set off, the flush valve opens and the compressed air, just like a water balloon, pushes the water out of the chamber with great force. The waste along with high water pressure is quickly carried out of the bowl through the trapway. The force of water also cleans out any streaks and leaves the bowl clean. Once the water of the tank is emptied, air fills the tank and the tank is simultaneously supplied with freshwater that compresses the inside air again to keep the toilet ready for the next flush.
Why Choose Pressure-Assisted Toilets Over Gravity-Fed Toilets?
While the gravity-fed toilets have significantly improved on their flushing power, they still have a long way to go to be able to compete with the best pressure assisted flush toilets. The two prime features that give them an edge over the traditional gravity-fed models are their water-saving capabilities and powerful performance which ensure that the toilet is cleaned completely using minimal water. It is for this reason that most of the commercial spaces, business, and industrial facilities prefer the best power assist flush toilets as they turn out the be the real money-savers in the long run. According to the popular pressure assisted toilets reviews online, though these models cost more than the gravity-fed toilets, they prove to be worth it since they are more durable, they clog less and hence require minimum upkeep. All-in-all, replacing your old gravity-fed toilets with the best power assist toilets will be a wise decision.
Can Pressure-Assist Toilets Be Dangerous?
As long as the installation manual has been followed to the T, the chances of the best pressure assisted toilets posing a threat to you or your family is next to zero. However, if the toilet has not been fitted properly ignoring their pressure tolerance and plumbing requirements, there are chances that their mechanism will fail to function optimally and might even explode due to excess pressure. So the bottom line here is not to take chances with the installation just to save a few dollars. If you are not confident, a pressure-assisted toilet should ideally be installed by a professional plumber.
How to clean a Pressure-Assisted Toilet?
The best pressure assisted flush toilets do not have special requirements or considerations for cleaning. They can be cleaned just like any other toilet. In fact, they are easier to maintain since their powerful flush maintains the bowl cleanliness. Most of the top models come with glaze coating that does not let dirt, mold, bacteria adhere to the surface of the bowl.
Also, tanks prone to condensation require more frequent cleaning as they tend to attract mold growth; but with pressure assist toilets this issue is also taken care of with the sealed plastic chamber inside. So all you need to do is scrub the toilet with your regular cleaner or disinfectant once a week and that should leave your toilet shining for days. Other than that, you can also buy gel stamps or on-the-bowl cleaner to keep them odor-free since you can't use drop-in tablets with these models due to their sealed water tanks.
Conclusion
Investing in the best pressure assist toilets is worth the money. It eventually turns out to be more economical if you want an efficient flushing system in your home that helps you cut down your water bills every year. Most of the top manufacturers are coming up with great models boasting excellent features. We have tried to give you an unbiased pressure assisted toilets reviews for six of such models in this article.
The only downside to buying these toilets is the loud noise that many users averse especially when you are trying to tiptoe to the washroom in the middle of the night but still end up waking up your loved ones due to the loud whooshing noise. If you can get over the loud sound that these powerful marvels produce, you can have a great machine at your home that takes care of your dump with lesser hassles.