5 Best Macerating Toilets: Best Upflush Toilet Reviews With Care Tips, Buying Guide and More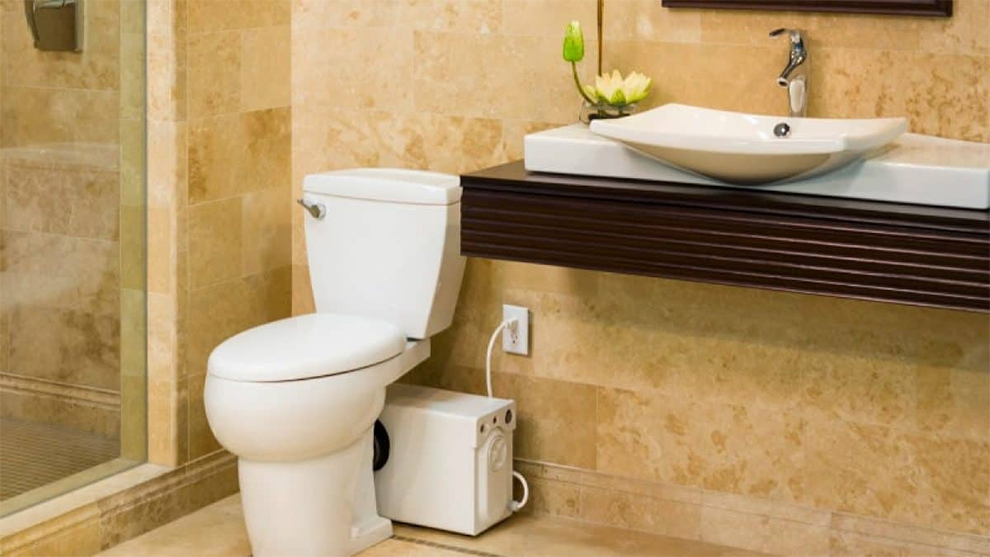 Have you been planning to give your basement a makeover? Do you live in an old house and want to renovate your bathroom? Or do you want to install a toilet in a different area that does not have access to the sewage system? The most cost-effective solution to deal with plumbing setbacks in all these cases is to install the best macerating toilets (upflush toilets).
A macerating or upflush toilet is a technologically advanced toilet that can help you have a lavatory in your preferred spot without having you to rip off your bathroom floor by a contractor and plumber. An upflush toilet sends the waste to a macerator located behind the toilet. The macerating unit comprises a motorized turbine with sharp steel blades that grind the waste into a slurry and then pump it upwards or sideways via thin pipes to reach the main sewage system or septic tank.
Quick Navigation
Though these toilets are more expensive than the standard flushing toilets, the best upflush toilet systems are more convenient to install in an existing drainage system than to drill into the concrete to redo the entire plumbing, let alone the massive cost of such a makeover. Moreover, an upflush toilet can be a lifesaver for households that experience low water pressure supply or have multiple users. Plus, the upflush toilets today come in great designs and styles that can easily blend with different bathroom décors.
But how do you check which models are the best macerating toilets in the market? And for that, we are here at your service. We did some groundwork to come up with detailed and unbiased upflush toilet reviews for the top 5 upflush toilets that efficient, easy to install, and are also value for money.  We have also shared some basic maintenance tips for the right upkeep of macerating toilets and have provided a quick buying guide that you can refer to for getting the best upflush toilet systems for your home or workplace. In addition to that, we have also tried to answer some of the common questions that may crop up in your mind as a prospective upflush toilet buyer.
So let us begin with our upflush toilet reviews for the best macerating toilets you can choose from.
Best Macerating Toilets: Our Top Picks
| Product | Rating | Price | Buy Now |
| --- | --- | --- | --- |
| Liberty Pumps Ascent II | 4.5 | $986.25 | Buy Now |
| Saniflo SaniBest Pro | 4.3 | $1258.85 | Buy Now |
| Saniflo 023 Sanicompact | 4.4 | $913.75 | Buy Now |
| Jabsco 37010 Electric Marine Toilet | 4.1 | $598.32 – $789.49 | Buy Now |
| Saniflo SaniPLUS | 4.5 | $1088.00 | Buy Now |
Advantages and Disadvantages of Upflush Toilets
Before you head out to compare the best macerating toilets in the market, let us take a quick look at the advantages and disadvantages of installing an upflush toilet in your home.
Advantages of the best upflush toilets:
Compact and mobile design
Allows flexible use
Durable flushing mechanism
Energy-efficient operation
Most of the macerating toilets are water-efficient
Some models can be upgraded and accessorized
Disadvantages of upflush toilets
Expensive than standard toilets
May make more noise than the standard toilets
It can turn out to be very messy in case of blockage
According to upflush toilet reviews, some parts of the upflush toilets are difficult to repair
Can clog frequently if different waste is disposed of in the toilet
Requires more frequent upkeep than standard toilets
Features to Consider When Buying the Best Upflush Toilets
To make the decision easier, you must make a checklist to ensure that your chosen best upflush toilets conform to the following essential features.
Maximum Depth of Operation
As the name goes, the best upflush toilet systems are meant to dispose of waste upwards or horizontally up to the drain pipes and sewage system. So if you plan to have a toilet in the basement, go for a make that supports maximum support depth.
Design and Look
Best macerating toilets come in different design options such as one-piece, two-piece, or wall-mounted. The one-piece toilets are more compact and premium-looking. They are also easy to clean and reduce the risk of leakage. Two-piece models are more budget-friendly and it is also easier to replace their worn-out parts. The wall-mounted ones are more suited for tight spaces as they do not occupy floor space. They are also quieter and their height can be adjusted as per your liking.
Bowl shape
You can go either for a standard bowl or an elongated bowl. The standard bowls occupy lesser space while the elongated ones offer more seating comfort. So choose according to your priority.
Noise level
You must read a couple of upflush toilet reviews to get an idea about the noise that your chosen toilet produces. Since macerating toilets have an in-built motor and a pump, they tend to be loud. Also, check if your preferred model comes with a soft-closing seat.
Macerating pump
The efficiency of the toilet will be determined by the power of its macerating pump. Therefore, check for the voltage and horsepower used by the motor. The material of the blades is another point to consider. Stainless steel blades require less overhauling. Also, check for the durability of the macerator seal and the material of the pump that houses the blades.
Flush Valve Size
Go for larger flush valves as they ensure that the entire waste is cleared in a single flush that too by using lesser water.
Weight and Dimensions
One-piece toilets can be heavier if you plan to install them on your own. Two-piece toilets are much easier to install as you can deal with the tank and the bowl separately. Also, tally the dimensions of the toilet with the area where you plan to install the unit.
Ease of installation
Most of the best upflush toilet systems are easy to install on your own. They usually require four connections starting from connecting the spigot to the pump, then connecting the tank to the water supply, installing the small diameter discharge pipe, and finally connecting the macerator to the power supply. However, if you are not confident, it is better to call a professional plumber.
Price and Warranty
Upflush toilets can range from $500-$1000.  Avoid going for the cheaper models as they may lack power and efficiency. Also, check the warranty cover offered by the manufacturer. You should ideally get a 2-to 5-years warranty.
How To Maintain Macerating Toilets?
Maintaining a macerating toilet the right way ensures its longevity and overall hygiene. Mentioned below are some tips that you can follow for the regular upkeep of the best macerating toilets.
Turn off the power to the macerator before you begin your cleaning regime.
Avoid using harsh cleaners as they can erode the surface coating.
Pour the toilet cleaner in the bowl and let it sit for a few hours. Use a soft-bristled brush to gently scrub the bowl. Make sure to cover the nooks and crannies. Switch on the power and run a flush.
If you do not like using chemical-based cleaners in your home, you can also prepare a mix of baking soda and vinegar in a 1:1 ratio and use it as a regular cleaner. Use this homemade cleaner at least once every weak to ensure a disinfected and sparkling toilet.
Avoid disposing of sanitary waste in the toilets as they can choke the system.
Try only using the cleaning products recommended by the manufacturer.
In case you plan to replace your old macerator, upgrade with a high-quality toilet listed in the top upflush toilet reviews.
Frequently Asked Questions
How does a macerating toilet work?
A macerating toilet transfers the waste to a macerating motor located behind the toilet or installed inside the wall. The macerator with its powerful blades grinds the waste to a slurry and pumps it out horizontally or vertically to be transferred to the main sewage system.
What are the perks of having an upflush toilet?
Macerating toilets are most apt for installing half bathrooms below the pipeline or in areas where the water pressure is low. They, therefore, give you the flexibility to have a toilet anywhere in your home. They are also easier to install on your own and do not require drilling into the concrete. Since macerating toilets have a durable construction they can last for good 10 to 15 years with minimal servicing.
Do macerating toilets produce too much noise?
Though some upflush toilet reviews complain that these toilets are louder, as per our survey, they make the same level of noise as any other toilet.
Does a macerating toilet make the bathroom smell?
As long as you clean the toilet regularly, the chances of any odor are next to none. However, if the toilet has not been installed properly or if it is clogged, it can give off foul smells.
Can an upflush toilet grind waste such as dental floss, sanitary napkins, and chewing gums?
Though certain upflush toilet reviews claim that the motors of the best upflush toilets can handle sanitary waste, you should never dispose of such waste in the toilet. Since these toilets are made of delicate components, anything other than human waste and toilet paper can clog the toilet.
Can a macerating toilet be installed anywhere?
The biggest advantage of macerating toilets is that they can be installed in almost any corner of the house, attic, basement, or even in the garage.
Which one is better – macerating toilet or a regular one?
Upflush toilets are suitable for places that do not run underground drainage pipes. If you do not want to dig out your entire bathroom to fix a toilet, better invest in one of the best macerating toilets.
Are upflush toilets more affordable than normal toilets?
Even though their prices are higher than the standard toilets, their installation doesn't require you to drill into your bathroom floors or spill filth around. So you do save majorly on the cost of installation. Plus, they are more durable and require lesser replacement of spare parts which also makes them more affordable in the long run.
Conclusion
This brings us to the end of our upflush toilet reviews. The functioning of all the listed models is pretty much the same and all are highly efficient in terms of energy and water consumption. Every model is equally dependable for effective waste management. So the final choice comes down to your budget, water consumption, size and seating height, and the design that pleases your eyes.
We hope that our upflush toilet reviews will assist you in weighing out the pros and cons of each toilet and the buying guide will help you make an informed choice. See you around with another set of best toilets.