Toto vs Kohler Toilets – Which One Is Worth The Buck?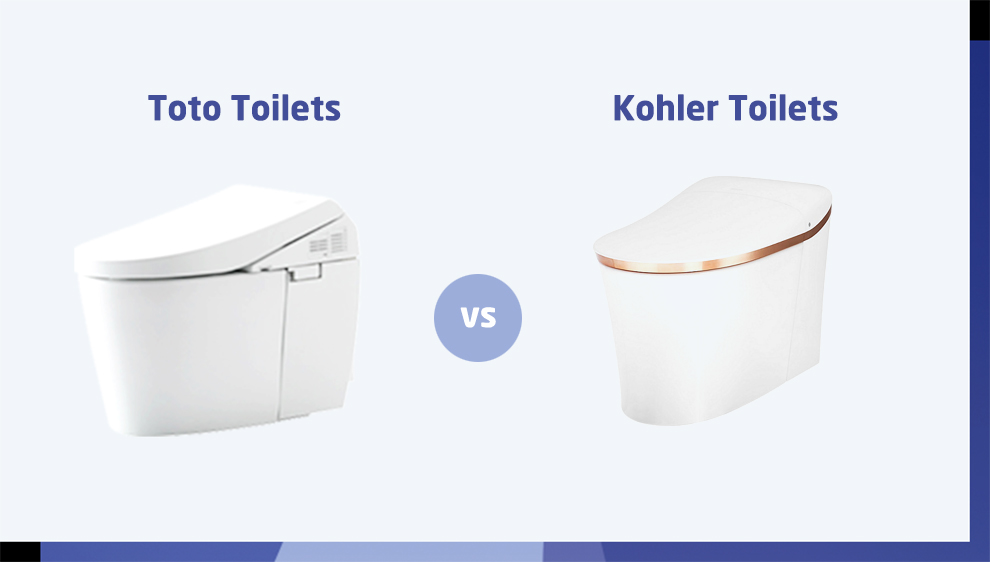 Toto and Kohler are two of the prevalent toilet brands. Now, the popularity of the two is such that there has been a persistent ongoing debate amongst experts – is Toto better than Kohler? Well, you are about to find out soon with our detailed Toto toilets vs Kohler toilets review.
The problem that most customers face is that there are umpteen advancements in the toilet industry, which take place on a routine basis. Consequently, it is overwhelming for the customers to make a definite choice.
Nonetheless, the two are the top-selling toilet brands, which surely is for all the right reasons. So, let us get started and find out who wins the debate amongst Toto vs Kohler. We are confident with our comprehensive Toto toilet vs Kohler review; you will have a conclusive answer on are Toto toilets better than Kohler?
Key Takeaway:
In This Article
Before we head onto our journey of finding out which brand is better, we will address a brief overview of the two companies.
What Is Special About The Toto Toilet Brand?
Toto is one of the most prevalent Japanese brands, which has been in the business of making toilets for over a century.
The hype about the brand revolves around its comfortable, stylish, convenient and hi-tech toilets. The company was founded in 1917, and over time, it has earned a glorious reputation, such that it is today a global market leader.
The brand is renowned for its ADA and EPA-compliant designs. They have more than a hundred different kinds of toilets available for your selection, and one better than the other. They now also offer elegant faucets and showers for your bathroom.
What About The Brand Kohler?
Kohler has been around for a lot longer than Toto. It was founded in 1873. Over these years, Kohler has established a name for itself in the industry, so much so that it is one of the most celebrated names in the plumbing world today.
In addition to the toilets, the company has a range of bath furnishings designed beautifully to elevate your bathroom's style and ambiance.
Kohler and Toto Key Attributes Breakdown
*Disclaimer: This is a general overview of the brand features. Some of these features may not be present in certain models.
Features
TOTO
KOHLER
Country of origin
Japan
United States
Multiple product lines
Yes. Newly added faucets & showers
Yes
Flushing System

E-Max, G-Max, Dual-Max
Cyclone, Tornado
Double-Cyclone flushing systems

Revolution 360® flushing technology
Class Five technology
Ingenium flushing system

Easy to clean
 Yes
Yes, but needs more effort
Built material
 Ceramic and vitreous china
 Ceramic, porcelain and vitreous china
Flush capacity
 1.28 GPF to 1.6 GPF
1.28 GPF to 1.6 GPF
Noise level
Not noisy
Little bit higher
Budget friendly
Less affordable
More affordable
Maintenance
Little to no maintenance
Routine maintenance
Bidet compatible
 Yes
Yes
Design & variety
 Wider choice
Less choice
Certified tech, if any

ADA-compliant
Universal height
California Proposition 65
WaterSense
CalGreen
LinearCream
ContinuousClean Tech

ADA-compliant
Universal height
California Proposition 65
WaterSense technology
CalGreen

Smart toilets
 Yes
Yes
Leak Issues
Almost negligible
Prevalent
Warranty
1, 3-year, Lifetime (Conditions apply*)
1,3,5-year, Lifetime (Conditions apply*)
MyPlumbersChoice Take
Great Long-term Investment
Good Budget Investment
Worthy Buys
Toto Vs Kohler Toilets- Is Toto Better Than Kohler?
The primary difference between these two can be seen in their features. So, to address, 'are Toto toilets better than Kohler,' we will take a while to detail the features of toilets from both these brands.
Flushing system and capacity
When picking between the Toto vs Kohler, the flushing system and capacity is a vital consideration. What good is a toilet if it lags in the flushing system? So regardless of the model you pick from amongst Kohler toilet vs Toto, the idea is to ensure that it has a powerful flush that can get rid of all the dump in a single flush.
Winner: So, upon comparing the flushing system of both these brands, we found that Kohler's flushing system is incredibly powerful and comprises a flushometer tank system, Class Five technology, and Ingenium flushing system. These are all proprietary to Kohler and have successfully been able to satiate the customers.
On the other hand, the analysis of the Kohler toilet vs Toto helped us establish that Toto has a relatively more advanced flushing technology. It comprises E-Max, G-Max, Cyclone, Tornado, Dual-Max, and Double-Cyclone flushing systems, which amplify water savings.
So, in Toto vs Kohler toilets flushing system, Toto is the winner for us. The flushing capacity is more or less the same and is between 1.28 GPF to 1.6 GPF.
Built material
As established, both Toto and Kohler are two of the most reputed brands in the plumbing industry. So, naturally, the offerings from the brand are composed of top-quality material.
Winner: Both Kohler and Toto toilets employ materials, such as ceramic and vitreous china. However, there is also a prevalence of porcelain in the Kohler toilets, absent in the Toto ones, but they make up for it with their proprietary SanaGloss finish.
This ensures that mildew, bacteria, or mold do not thrive on the toilet surface and is perfect from the hygiene perspective.
So, upon comparing Toto toilets vs Kohler toilets based on the material used, Toto is the clear winner.
Durability
Well, to say the least, both Toto and Kohler are highly durable for residential and commercial settings.
Winner: Toto toilets are not known to cause leaks. Consequently, they have a longer lifespan. Hence, comparing Kohler toilet vs Toto toilets on durability, the latter is the winner.
Accessibility
Of course, the two toilet brands release only durable products, but a part or two may be broken over time. When that happens, you would not want to change the whole toilet because of the absence of the part. So, amongst Toto vs Kohler toilets, you need a brand that offers easy accessibility to the spare parts.
Winner: After studying through Toto toilet vs Kohler toilets, we established that Toto is a Japanese brand, whereas Kohler is an American brand.
So, naturally, Kohler customers find it easier to source spare parts. Hence, Kohler has an edge in terms of accessibility amongst Kohler toilet vs Toto.
Maintenance and cleaning
Generally, you will find a Cefiontect glaze or the SanaGloss glaze in most Toto toilets, which does not let the mildew, molds, or bacteria thrive on the toilet surface.
In Kohler toilets, too, the flushing system is robust. So, waste won't stick to the bowl, but it will require more than a single flush to eliminate all the waste.
Winner: In Toto toilet vs Kohler,the former has a more powerful flushing system. Hence, they will barely require any cleaning effort post usage.
However, typically, if you want to spend minimum effort in cleaning, you must consider getting a one-piece skirted design toilet.
As for the maintenance, Toto is again a winner as customers have barely faced any issues, and the same does not hold for Kohler.
Price
Price is also a vital factor when you make a choice between Toto versus Kohler toilets. A toilet is a fixture intended to last you for years, and during the while, you would not want to spend on plumbing repairs unnecessarily. Thus, when picking between Toto toilet vs Kohler toilet, you need to look for an offering with low upfront and long-term cost, -without compromising quality.
Winner: In Toto vs Kohler toilets,we have already established that Toto has an edge in durability. Now, the only problem in the dynamics is that the offerings from the brand are relatively more expensive. So, if you are tight on the budget, Kohler can be a pick for you.
Installation
Typically, both of them are very simple to install. However, generally speaking, the ease of installation also depends on the choice of the toilet. For instance, the one-piece toilets are relatively easier to install, whereas a tankless or a two-piece takes greater precision and might need assistance from an experienced plumber.
Winner: Comparing Toto vs Kohler toilets on ease of installation, we have established that there is a tie between the both.
Design
Are Toto toilets better than Kohler in terms of design? Well, design is undoubtedly an essential factor in your toilet selection because the toilet's design should complement the look and appeal of your bathroom. However, design is a subjective term and largely depends on your personal taste and the bathroom's theme.
Winner: Amongst Toto vs Kohler toilets,the former has a greater range of selection available. Hence, you have a wider choice. Thus, it is easier to find a toilet that matches your needs and preferences.
However, if you want a toilet to compliment the traditional theme of your bathroom, then Kohler will have better choices for you.
In general, both brands provide you with an array of luxurious and elegant toilets. So, selecting a clear winner from Toto toilets vs Kohler toilets is not possible here.
Noise
The noise in toilets is two-fold. One is the refilling noise, and the other is the flush sound. You would not want to declare to everyone in the house that you have just used the loo. So, naturally, from Toto vs Kohler toilets, you would want a pick that produces minimum sound.
Winner: In terms of noise, we have a clear winner between Toto versus Kohler toilets. Toto should be your pick as it has a noise-free refilling system, and the flush sound is also very feeble.
On the other hand, Kohler does have a refilling sound, and it also produces a higher flush sound. Hence, in this category of Kohler toilet vs Toto comparison, Toto has an edge.
Special Certification
The presence of certifications accentuates your trust in the brand. So, naturally, when choosing between Toto vs Kohler toilets, certifications should be a prevalent criterion.
Certifications prove that your chosen toilet is suitable for people from all age groups and is environmentally friendly.
Winner: Fortunately, amongst Toto versus Kohler toilets,both of them have proper certifications.
Both Toto and Kohler toilets are ADA compliant. They also adhere to the universal height guidelines, California Proposition 65, WaterSense technology, CalGreen, Declare, and Beyond Green authentications.
So, there is a tie between the two in this aspect of the Toto toilet vs Kohler comparison.
Warranty
Warranty showcases the brand's trust in their offering and makes the purchase secure for the customers. Hence, when choosing between Toto toilet vs Kohler toilet, warranty is a vital factor.
Winner: In this aspect of Toto vs Kohler toilets, there is a tie between the two as they both offer a one-year to a lifetime of warranty on the different parts under varied terms and conditions.
Toto Versus Kohler Toilets: Top Models To Buy
Now that we have seen a feature-wise analysis of Toto versus Kohler toilets, we will take it further and address some of the popular models from both brands. In this article, we have not covered the Toto vs Kohler smart toilets, but that is another category we will review soon.
Top Toto Picks
If from our feature-based Toto vs Kohler review, you found the former better, then here are some models from the brand you can consider buying. You can read about their detailed review in our best toto toilets list.
1. Toto UltraMax II – MS604114CEFG#01
If, after reading the features listed Toto vs Kohler toilets,Toto is your brand preference, then the best toilet for you is this one-piece, elongated toilet. It is a high-efficiency toilet, which yields 1.28 GPF. This can bring in good water savings.
Further, the Tornado flush system makes it suitable for you to eliminate solid waste in a single flush. Its SanaGloss glaze does not let the bacteria, mildew, or mold stick to the surface.
Further, its soft close seat ensures no unnecessary banging of the seat by the kids. One of the reasons it holds a top spot is that it is CEC, ADA, CALGreen, and WaterSense compliant.
2. Toto Drake 2
It is a single flush two-piece toilet with a G-Max flushing system. It has a wide 3-Inch flush valve, which is about 125% larger than conventional 2-Inch flush valves.
The good thing about this toilet is that it utilizes only 1.6 GPF, which is ideal for eliminating solid waste in a single flush. Its elongated toilet bowl makes it comfortable for sitting as well.
The 12″ Rough-in universal height of the toilet is ADA-compliant. So, people, regardless of age, will not experience any difficulty in sitting. The vitreous china material of the toilet makes it durable and sturdy.
3. Toto Neorest
The third one on our list is this dual flush toilet, which has an ultra-high efficiency. For the economy flush, you get 0.8 GPF, and for the full flush, you get 1.0 GPF. Its cyclone siphon jet flushing system adds to its power and efficiency.
Thanks to advanced cleaning and hygiene technology, such as tornado flush and Cefiontect, maintenance is quick and hassle-free.
Operation and functionality are simplified for people with mobility issues, all thanks to the remote control. So, you can enjoy an automatic, hands-free flush.
For cold, winter nights, the temperature control, heated seats are very comfortable. The lids also have auto-close and open senses.
You will not have difficulty using the loo in the dark because the illuminating nightlight will guard you against getting hurt.
Furthermore, the air deodorizer will keep the air inside the loo fresh and aromatic. Lastly, the temperature and pressure settings can be tailored to cater to individual needs.
4. Toto Drake – CST454CEFG#01
The last one on our list for the best Toto toilets is this light weight toilet that weighs only 94 pounds. Hence, the installation of this toilet is quite easy. The toilet operates on double cyclone technology, which makes cleaning quick and hassle-free.
It has a powerful flush, which does not produce a loud noise. It has a single flush system, which uses only 1.6 GPF. Consequently, the flush is very eco-friendly, and aids in saving twenty prevent more water.
Top Kohler Picks
If, in the feature-based Toto vs Kohler toilets comparison, you found Kohler a better pick, then we have some of the most popular Kohler picks for you. You can read their detailed pros & cons in our best Kohler toilets review.
1.  Kohler Cimarron – 3609
This two-piece, elongated toilet is the first one for consumers who prefer Kohler amongst Toto vs Kohlertoilets. Its elongated bowl makes it easier for you to sit comfortably. The comfortable chair height of the toilet also makes it convenient for older adults to sit down and get up comfortably.
A single flush toilet yields 1.28 gallons per flush, utilizing potent gravitational push to clear the dump quickly. The exquisitely designed bowl, tank, and trapway produce a powerful siphon, which adds to the flushing power.
Lastly, the toilet's AquaPiston canister makes the water flow in from all sides, thereby amplifying the flush's effectiveness and power.
2. Kohler Santa Rosa – 3810-0
This comfort height elongated bowl makes sitting down and getting up from the toilet seat incredibly convenient and comfortable. It is a one-piece toilet, which is effortless to clean and maintain.
It is a single-flush toilet that yields 1.28 GPF, which utilizes potent gravitational push for clearing the dump. The exquisitely designed bowl, tank, and trapway produce a powerful siphon, adding to the flushing power.
Additionally, the toilet's AquaPiston canister ensures that the water flows in from all sides. This boosts the effectiveness and the power of the flush.
3. Kohler Wellworth K-3988-0
If you find a two-piece, dual-flush toilet a more desirable pick, then this Wellworth toilet can be an apt pick for you. It is equipped with an elongated bowl, which amplifies the comfort.
You get two flush options. The economy flush releases 1.1 GPF, and the full flush releases 1.6 GPF. This can be an excellent way to save on your utility bill.
Your Kohler toilet is floor-mounted and is very lightweight. So, self-installation is also possible.
4. Kohler Memoirs K-3817-0
Lastly, we have a single flush toilet, which yields 1.28 GPF water and is powerful enough to clear both solid and liquid waste in a single go.
It has an elongated bowl, and its comfort height makes it convenient for those with physical disabilities to sit down and stand effortlessly.
In addition, the Aqaupiston flush technology, along with the strong gravitational pull, makes cleaning the dump quicker.
Common Myths Debunked About Kohler Toilet vs Toto
Ques 1. What is special about a Toto toilet?
Ans. Some special features that you will find in a Toto toilet are:
The Self-deodorizer system inbuilt with Toto keeps the bathroom free from all sorts of foul smells.
They are equipped with seat warmers and illuminators to give you maximum comfort.
Ewater+ is an electrolyzed form of water released by Toto toilets after each flush to keep it clean.
SanaGloss glaze to keep bacteria, mold, and mildew at bay.
Double cyclone system, which ensures that the water flows from all directions for quicker cleaning.
The soft-close lid and seat ensure that there is no banging after use.
With Toto washlet, you get an attached air dryer. After cleaning up, you don't need toilet paper to dry up. The air dryer would simply do the trick.
Ques 2. Are Toto toilets hygienic?
Ans. The Toto toilets are equipped with SanaGloss glaze, ewater+ which ensures that the mildew, bacteria, and molds do not thrive on the surface. Hence, they are surely very hygienic.
Ques 3. How long should a Toto toilet last?
Ans. A quality, well-maintained Toto toilet can easily last you between 10-12 years.
Ques 4. Are Toto toilets better than Kohler?
Ans. From our comparative review of toto toilet vs kohler above, we have already established that Toto toilets are better than Kohler toilets.
Ques 5. Who makes Toto toilets?
Ans. Toto is a Japanese brand, it has now expanded its operations to several different countries, such as the US, Mexico, Japan, Thailand, Vietnam, and China. In the US, it is manufactured at a facility situated in TOTO USA factory in Morrow, Georgia.
Ques 6. Are Toto toilets worth the money?
Ans. Toto toilets are top-notch in quality and durability. Moreover, they are equipped with all the latest features. Hence, they are a true value for money.
Ques 7. What toilet do plumbers recommend?
Ans. Toto Eco Ultramax toilet is the number one plumber-recommended toilet because it is easy to use and install, and needless to say that gives you an amazing performance.
Our Verdict – Is Toto Better Than Kohler?
After a comprehensive Toto vs Kohler analysis, we are confident that it is easier for you to conclude that the former (Toto) does have the edge over the latter in terms of durability.
More so, its advanced flushing features, durable build quality, top-notch materials, and excellent supporting features make Toto the clear winner in this debate.
Of course, from the price perspective, Toto may land on the more expensive side of the spectrum, but Kohler fails to keep up with the super water-efficiency technology of the Toto toilets, but this does not mean that Kohler toilets fall flat.
On the contrary, if you are tight on budget and are okay with a slight compromise on efficiency, then Kohler can also be a good pick for you. Hopefully, this Toto vs Kohler review did serve the purpose for you and can help you find a suitable toilet for your bathroom.