Brondell Swash cs1000 Bidet Review: Know How It Performs Compared To Other Similar Models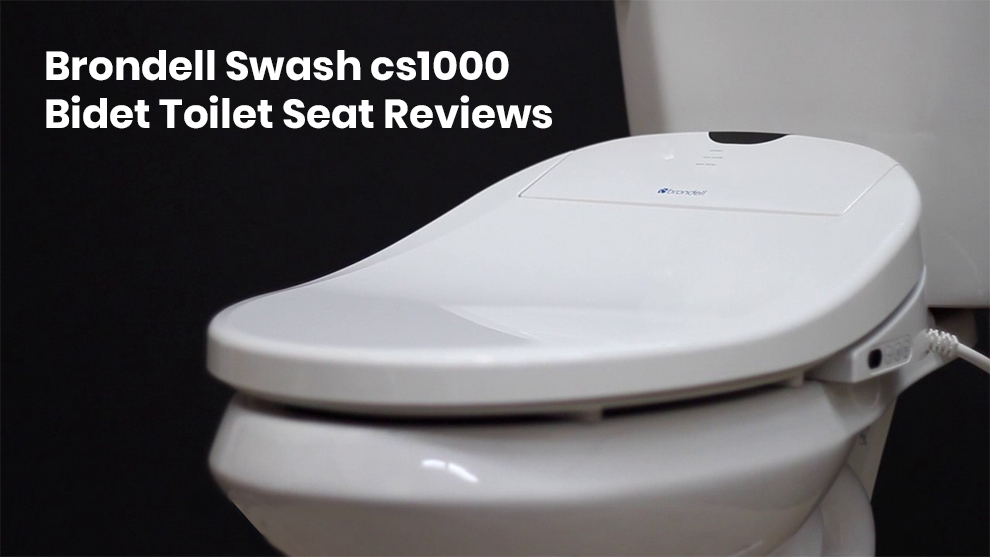 It is unfortunate that a toilet that has a bidet on it isn't very pocket friendly. Toilet paper, regardless of how much you use it, it will never make you as clean as a mini shower. In all honesty, it is sad that people still do not understand how much money they could save and the good they can do to the environment if they let the toilet paper be on the shelf.
With Brondell, it has been proven that several people can enjoy a bidet if they so desire. How? They successfully achieved this by creating a bidet toilet seat, which can upgrade any toilet. Do you think you would like a bidet? Well, do not be so quick to decide. Read below our Brondell Swash cs1000 bidet toilet seat review, and hopefully, by the end of it, you will have a concise answer to the question.
With our Brondell Swash cs1000 bidet review, we will try to help you understand some of the features that you are probably missing out on with your current toilet. Let us get started and take you through our comprehensive Brondell Swash cs1000 review.
Table of Content
What Is Brondell Swash cs1000?
In the first section of the Brondell Swash cs1000 review, let us understand the product in general.
Brondell Swash 1000 is Brondell's exquisite high-end luxury seat. It presents to you many gorgeous, luxury features. When you experience the luxe of washing with warm water, you will not shy away from agreeing with us. Hopefully, upon trying the Brondell Swash 1000, you will never want to go back to the expensive baby wipes or the dry irritating toilet paper.
Brondell Swash 1000 was started with a simple outlook in mind – Wash and do not wipe. The brand's ground-breaking technology, clearly seen through their Swash 1000 range, continues to impress and offer the customers an exquisite home-spa experience. The satisfaction level of the customers is quite evident from the several positive Brondell Swash cs1000 bidet toilet seat reviews on the many e-commerce platforms.
The toilet seat comes loaded with exquisite high-end features, such as a warm air dryer and warm washes, which have been most appreciated in the Brondell Swash cs1000 reviews. It is also equipped with innovative features, such as outstanding spray width adjustability and nozzle sterilization with nanotechnology.
A reason for the high rating and many positive Brondell Swash cs1000 bidet toilet seat reviews is the very fact that its installation is quick and straightforward. The device is designed to be installed in less than a few simple steps. Customers have widely appreciated Brondell Swash 1000 in the many Brondell Swash cs1000 bidet reviews because the seat can be self-installed on the existing toilet in less than sixty minutes.
Brondell Swash cs1000 Detailed Overview
Taking this review forward, let us address some of its features that will easily make you fall in love with it.
Key Features
Warm Air Dryer
Sterilizing Dual Stainless Steel Nozzles
Adjustable Spray Width
Endless Water Heating System
Sturdy Sittable Lid
Multiple seat heat settings
Customizable Wash Experience
Odor-free experience
Oscillation wash
Auto-off sensor
Wireless remote
Quick-release feature
Three-year warranty
Affordable
Can fit on all toilets
Cutting-edge hygiene
Great for the environment
Warm Air Dryer
The next feature of the Brondell Swash cs1000 that deserves a special mention in our Brondell Swash cs1000 review is its warm air dryer. This adjustable dryer works well and can comfortably eliminate the very need to use toilet paper. Hence, you will find yourself feeling naturally clean, refreshed, and dry when you are done and ready to leave, even sans the toilet papers.
Sterilizing Dual Stainless Steel Nozzles
The nozzles of the Brondell Swash cs1000 are designed from solid stainless steel. Consequently, they are a lot more hygienic and durable compared to plastic-tipped or plastic nozzles. To offer you additional peace of mind, the brand has made it easier for you to sterilize the nozzle using silver nanotechnology anytime you please, at your convenience.
Adjustable Spray Width
We want to point out another nice and unmissable feature in our Brondell Swash cs1000 bidet review is its adjustable spray width. This means that you have more flexible settings, which offer you complete control over your wash. When you feel that you need a more potent clean, you can simply turn the wide spray to its narrowest setting and push the pressure upwards.
On the other hand, when you have to clean your privates generally and need a more gentle and soothing wash, you can select the widest setting to put down the pressure. Yes, it is really that simple!
Endless Water Heating System
How can we talk about the features in this Brondell Swash cs1000 review and not mention one of the most notable things about this toilet seat? Yes, we are talking about its endless water heating system. In Brondell Swash cs1000, you can get warm water at a simple push of a button. It comes with a ceramic-core heating system, which can offer you endless warm water washes anytime you desire.
Since it comes without a reservoir tank, this implies that there is never a time when you will find yourself running out of warm water or get blasted with a splash of cold spray when the reservoir tank runs out.
Further, it also directly impacts your energy bills, which is another positive aspect that we would like to point out in our Brondell Swash cs1000 bidet toilet seat review. So, when not in use, Brondell Swash cs1000 will not unnecessarily waste electricity in an attempt to keep the water warm.
Sturdy Sittable Lid
The next highlight of Brondell Swash cs1000 that deserves mention in the Brondell Swash cs1000 bidet toilet seat review is its sturdy sittable lid. The strong, durable, and sturdy lid is equipped with a slow-close feature, thereby sparing you from the slamming seat effect.
Multiple seat heat settings
In this Brondell Swash cs1000 review, you should also know about the multiple seat heat settings of this bidet. This is certainly a top feature as it saves you from the unnecessary shock of a cold toilet seat. More so, given that there are multiple heat settings, you will be comfortable regardless of the weather.
Customizable Wash Experience
You can adjust the dry and wash setting on the wireless remote control with multiple water pressure options, water temperature, nozzle position, spray width, and nozzle oscillation.
Odor-free experience
Another feature responsible for good Brondell Swash cs1000 bidet reviews, is its active carbon filter and fan. Thanks to it, Brondell Swash cs1000 can provide you an odor-free experience. When the fan pulls the air through the filter, the filter sucks the odor. Thus, it enables the deodorizer to get rid of the smell altogether.
Oscillation wash
Another feature, which drives the many positive Brondell Swash cs1000 bidet toilet seat reviews is its oscillation wash. At times, even the wide wash seems insufficient. This is why Brondell Swash C1000 offers you a fine oscillation wash. Thankfully with it, the nozzle moves back and forth, thereby giving you a complete wash.
Auto-off sensor
It has a built-in body sensor, which ensures that the Brondell Swash 1000 does not turn on unnecessarily while not in use.
Wireless remote
Your Brondell Swash 1000 comes with wireless remote control. It makes selecting the proper wash simple, quick, and convenient.
Quick-release feature
Brondell Swash 1000 seat comes with a quick-release feature, which makes cleaning super-easy.
Three-year warranty
An honorary mention in this Brondell Swash cs1000 bidet review has to be the fact that your Brondell Swash cs 1000 comes with a three-year warranty. This means that if there is a problem with the bidet during the three years of purchase, you can easily get it replaced without a problem.
Affordable
Regardless of whether you pick the round or the elongated variant of the Brondell Swash cs 1000, you can easily install it yourself. So, this means that there is no extra expense on getting the toilet seat installed. Further, the price for both the seats is very economical. So, you do not have to worry about splurging because the Brondell Swash cs 1000 will cost you only a small fortune. When you get such brilliance at an affordable rate, the positive Brondell Swash cs1000 reviews seem more than reasonable.
Can fit on all toilets
The Brondell Swash cs1000 seat is easily adaptable. So, it will fit onto all the toilets, which have a removable toilet seat. Hence, you will never have to worry about the fitting.
Cutting-edge hygiene
Water is capable of cleaning in a much better manner than paper. Brondell Swash cs1000 is innovative, sanitary, and safe. You can elevate your hygiene and upgrade your bathroom without any replacement.
Great for the environment
Brondell Swash cs1000 can help you clean while simultaneously lowering the requirement for toilet paper. This will not only help you save money but also reduce the overall waste generated.
All of this and more make Brondell Swash cs1000 a top product, which translates into the top Brondell Swash cs1000 reviews.
Pros & Cons
Taking the Brondell Swash cs1000 review forward, we will now present to you some pros and cons of the Brondell Swash cs1000. Hopefully, you will have better clarity on the Brondell Swash cs1000 review with the pros and cons.
Pros

Deodorizer
Nozzle sterilization
Warm air dry
Positionable nozzles
Rear cleanse posterior
Front cleanse feminine
Adjustable water pressure
Adjustable water temperature
Hygienic filtered water
Dual stainless steel wash nozzles
Oscillating cleanse
Nozzle sterilization
Instant water heating
Endless warm water
Three-levels of wide wash spray
Aerated wash spray
Gentle closing lid and seat
Ergonomic heat seat with three levels
Automatic deodorizer
Safety on and off seat sensor
Self-cleaning nozzles
Quick-release seat
Easy cleaning
Sittable lid
Automatic eco mode

Cons

Missing Enema wash
Missing child mode
Programmable User Settings not found
One-Touch Auto Mode absent
Nightlight feature absent
Hidden Water & Power Connections not there
Brondell Swash Seats Comparison
Taking Brondell Swash cs1000 bidet toilet seat review forward, we will now compare it with two other Brondell models to help you find a better pick in your budget.
Features
Brondell Swash cs1400
Brondell Swash cs1200
Brondell Swash cs1000
Image
Hygiene
On-Demand Nozzle Sterilization
Yes
No
Yes
Positionable Nozzles
Yes
Yes
Yes
Front & Rear Wash
Yes
Yes
Yes
Adjustable Water Temperature
Yes
Yes
Yes
Self-Cleaning Nozzles
Yes
Yes
Yes
Adjustable Water Pressure
Yes
Yes
Yes
Nozzle Oscillation
Yes
No
Yes
Comfort
Ergonomic Heated Seat
Yes
Yes
Yes
Adjustable Spray Width
Yes
Yes
Yes
Deodorizer
Yes (replaceable)
No
Yes
Aerated Wash Spray
Yes
Yes
Yes
Ceramic-core water heating system
Yes
Yes
Yes
Warm Air Dryer
Yes
No
Yes
Convenience
Programmable User Settings
Yes
Yes
No
Nightlight
Yes
Yes
No
Slow-Closing Seat and Cover
Yes
Yes
Yes
One-Touch Auto Mode
Yes
Yes
No
Hidden Water & Power Connections
Yes
Yes
No
Safety Seat Sensor
Yes
Yes
Yes
Power Saving Eco Mode
Yes
Yes
Yes
Wireless Remote Control
Yes
Yes
Yes
Quick-Release Seat
Yes
Yes
Yes
Price
Check price
Check price
Check price
Brondell Vs. Toto
Even though our aim through this article is to give you a Brondell Swash cs1000 review, we would also want to compare Brondell Swash 1000 with another equally popular model from a highly famous brand Toto – TOTO S550e. Let us take a quick look at the features and understand which of the two is a better pick.
| Features | Brondell Swash 1000 | TOTO S550e |
| --- | --- | --- |
| Warranty | 3-year limited warranty, can upgrade to 5-year full warranty. | 1-year full warranty, no upgrade options. |
| Weight Limit | 330 lbs | 320 lbs |
| User Presets | No | Yes |
| Nozzles | Dual nozzles | Single, 2 in 1 nozzle |
| Nozzle Sterilization | Yes, with a silver-nano solution | Yes, with EWATER + |
| Nozzle Material | Stainless Steel | Plastic |
| Sittable Lid | Yes | No |
| Pulse Wash | No | Yes |
| LED Night Light | No | Yes |
| Auto Open Lid | No | Yes |
| Seat Options | Round and Elongated | Elongated |
| Color Options | White and Biscuit | White and Beige |
| Remote Options | One sided, push button remote | Dual sided remote |
Important Factors To Consider Before Bidet Shopping
Now that we have given you detailed information on the features, pros, and cons of the Brondell Swash C1000 through this Brondell Swash cs1000 bidet review, we would also want to give you a general buying guide when you go around shopping for a bidet. So, regardless of whether you shop for Brondell Swash C1000 or any other Bidet, you do not make a mistake.
Budget
First, and indeed, the most vital consideration when shopping for a bidet is the budget. Further, while selecting the budget, you need to factor in both the cost and the savings of using a bidet.
Further, investing in a bidet is a long-term thing. A good quality bidet will last you many, many years. If you pick models, such as Brondell Swash cs1000, they are already covered by several warranties.
Generally speaking, too, if you shop for a 400 USD bidet, and divide this purchase cost to a minimum of a ten-year life, even then the bidet will cost you only 40 USD per year. Of course, it all comes down to how much you are willing to spend, what features you need, and which functions you seek.
The primary feature of a bidet is cleaning, and every bidet you find in the market will do that for you. Of course, some, as we have seen in our Brondell Swash cs1000 bidet review, will perform a better job than others. It is mainly because of the additional bells and whistles, such as adjustable widths and adjustable nozzles. There are other prevalent differences, too, which decide the cost.
Water Temperature
In a bidet, the most significant feature upgrade is shifting from cold water to warm water. You can find this feature even in some less expensive models. Typically speaking, water can be heated via two different models. Some models tie into the hot water line, the bathroom sink, whereas the other bidets tend to have a mini heated water holding tank. It is the latter, which assures a better warmth and a quicker warmth compared to the former.
Electrical Vs Non-Electrical
When you move from a non-electrical to an electrical model, there will be a surge in the price. When the model is non-electrical, it will offer only minimal features.
Feminine Wash
It is a vital aspect and is incredibly important for the females to clean their intimate area. Under this, the bidet adjusts the nozzle angle, so it shifts from pointing towards the seat's rear for the posterior to a few inches forward for women. In case the home has only man users, then this feature is not required.
Heated Seat
It is a prevalent feature for several people, and it gives you a warm seat when you sit down. It can be beneficial during the winter month. The good thing is it can be turned off, as desired.
Heated Air Dry
Another mega upgrade, which adds to the whole bidet experience, is the heated air dry feature. After the bidet is used, warm air is let out to dry the posterior area. It is a nice upgrade, which helps dry out the wet area fast.
Adjustable Water Temperature
You already know that you need warm water, but now you have to decide if you wish to alter the water temperature. In several electrical bidets, this option is present. However, the basic models will not provide you with this feature. It goes without saying, it is a vital feature as you will be spraying yourself for many subsequent years. Thus, you may want to achieve a temperature that you enjoy according to the season.
Adjustable Water Pressure
It is another prevalent feature, which is usually seen in electrical bidets. Since every individual has different preferences, it is good to have an option to adjust how strong or light the sprays are.
Adjustable Nozzle Position
Mostly, the electrical bidets do have an adjustable nozzle position, but it is a vital feature, and you need to verify the same before shopping.
Adjustable Spray Width
It is not a prevalent feature and is found in only some high-end bidets. It gives the bidet the ability to modify the spray width, which comes off the nozzle. It is a vital feature and is truly a bonus for you to have.
Oscillating Cleanse
It is also a feature limited to only a few bidets. Though not a mandatory requirement, it is particularly lovely for most people to have this feature as it gives a much wider spray. A wider spray does translate to better cleaning without having to adjust your body.
Water Pulse Cleanse
It is again similar to the oscillating cleanse, and the purpose is to achieve a better clean instead of using a pulse spray to get rid of the solid matter effectively.
Nozzle sterilization
It is a vital feature mandatory for proper hygiene. Not many models have this feature. Thus, it is recommended to shop for a model that comes with us if you want your bathroom to be hygienic and clean.
Power Saving Mode
Though it does not directly influence the bidet's working, it is essential because you do not want that just by including bidet in your home your water and electricity bill spikes us. Hence, this, too, is a vital consideration.
Warranty
Lastly, having a warranty indeed does help. Thus, before you shop for any bidet, you have to consider whether any warranty is offered or not. More so, nothing is ever as reassuring as an extended warranty. However, there are also some bidets, which have no warranty. But, in general, most of the higher-priced models do have a certain kind of warranty. Typically, the warranty varies from one to five years. Where some warranties offer full coverage, others limit the coverage following the first year.
Frequently Asked Questions
Ques 1. What are the Brondell Swash 1000's dimensions?
Ans.
Round
White S1000-RW
Biscuit S1000-RB
Dimensions 15″W x 19.4″L x 5.7″H
Elongated
White S1000-EW
Biscuit S1000-EB
Dimensions _ 15″W x 20.8″L x 5.7″H
Ques 2. Are bidets self-cleaning?
Ans. Not all bidets self-clean themselves. However, the Brondell Swash 1000 comes with self-cleaning nozzles, which offer it this outstanding ability.
Ques 3. How do you clean a Brondell bidet nozzle?
Ans. Cleaning the Brondell bidet nozzles is easier than ever. Whenever they need a cleaning, you can pull them down and give them a gentle scrub using a toothbrush or a soft cloth. In case your bidet needs a thorough cleaning, or if there is any debris lodged in the crevice, you can unscrew the nozzle's tip to give it a spotless clean look. However, please be careful with it, and do not drop it in the toilet.
Ques 4. How is the Brondell Swash 1000 compare to Toto washlets?
Ans. The Toto S350e is a top-of-the-line model. It presents to you a plethora of features that you may not get elsewhere. However, these features also come with a reasonably high price tag.
However, in all honesty, the Brondell Swash 1000 is not too far behind in the competition. However, there is a slight difference in the features, and the Brondell model lacks features, such as night light, TOTO's unique ewater+ system, and auto opening and closing lid. If these features do not serve much purpose, you can save yourself some money and instead opt for the Brondell Swash 1000.
However, if you are thinking of the difference between the TOTO S300 and the Brondell Swash 1000, we would like to point out that both are quite similar, but it does not have features, such as the night light feature, and the auto open and close of the lid.
Ques 5. Where can I get installation instructions for the Brondell Swash cs1000?
Ans. Installation of Brondell Swash 1000 is simple and straightforward. Follow these four simple steps:
Step 1 – Remove the toilet seat, and turn off the water.
Step 2 – Install the mounting plate.
Step 3 – Connect T-Valve and hoses
Step 4 – Attach the swash and plug it in.
This is all, and that's how simple it is.
Ques 6. Does Brondell Swash cs1000 have a heated seat?
Ans. Yes, Brondell Swash cs1000 comes with a heated seat.
Wrapping Up
So, this is all about the Brondell Swash cs1000 bidet review and the vital factors of consideration when shopping for the bidet you want. We would always recommend you to have a budget and stay well within it. However, since it is a long-term investment, you should also try to get all the necessary features. Some features may push the budget, but remember why you are getting the bidet and compare it to the long-term difference it can make to your savings. This will help you get the best in your budget.
Brondell Swash cs1000, one of the best bidets, is priced under 1000 USD and has all the bells and whistles and the features you possibly need. Another great thing is it is composed of top-quality materials. If it suits your pocket, it is the best pick for you. We hope and believe that our guide helped you make a viable decision and find the bidet that is best for your home.