Best Composting Toilets: 9 Best Waterless Composting Toilet Reviews (Both Off Grid and Electric)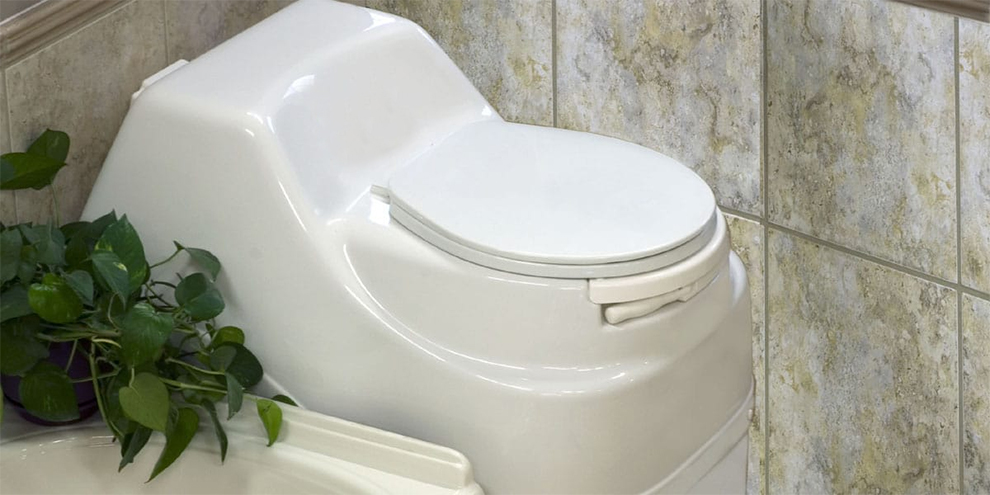 Many people today are mindful of reducing their carbon footprint and want to live life more sustainably. If you too are amongst nature conscious people who care about Mother Nature, installing a composting toilet can be a good first step towards going green. Unlike the traditional flushing toilet, the best composting toilets do not depend on any plumbing system or water for waste disposal and the best waterless toilets use less to no electricity.  Composting toilets are also ideal for people living off the grid in a holiday cabin, RV, on a boat, or camping amid nature. These toilets can easily be installed inside tiny houses that do not have any sewage system.
What Is A Composting Toilet?
In case you don't know what a composting toilet is, it is a dry toilet that decomposes the human waste into a manure-like material with the help of aerobic bacteria. The converted human-manure or humanure is put away in an easily-removable package and can be used as a fertilizer in your garden or for several other purposes. Now, if you want to know if these toilets generate odor or are prone to leakage, then rest assured that if maintained well, the best composting toilets work pretty much the same way as the common flushing toilets. In fact, they can also be used to dispose of kitchen waste effectively.
If you have already gone through the composting toilet reviews, you must have learned that some of the models are installed permanently with an outdoor vent and other best waterless toilets are more portable and can be taken along with you to different locations. However, there are several options in the market and the composting toilet reviews help you make a better choice for yourself.
So to make it a little easier for you, we tested out a few of the best composting toilets out there and have come up with some honest composting toilet reviews for the top rated composting toilets.
We have also provided a quick buyer's guide to help you select the best model for your needs and have even tried to answer some of the most commonly asked questions regarding the best composting toilets.
We have categorized the top composting toilets along with their features, pros, and cons under the best waterless toilets and the best composting toilet for off grid use.
Our Top Picks
Product
Rating
Price
Buy Now
Electric

Nature's Head Self-Contained Composting Toilet

4.5

$960
Buy Now

Camco Portable Compost Toilet

4.6

$61.64
Buy Now

Thetford Porta Potti Toilet

4.5

$234
Buy Now

Sun-Mar GTG Portable Electric Waterless Toilet

3.9

$629

Buy Now

Separett Villa 9215 AC/DC

4.4

$989
Buy Now

Sun-Mar Compact Self-Contained Composting Toilet

3.2

$2042
Buy Now
Non-Electric for Off Grid

Sun-Mar Excel Non-Electric Self-Contained Composting Toilet

3.2

$1,695- $2,719.90

Buy Now

Stansport Portable Toilet

4.6

$65
Buy Now

Sun-Mar CENTREX 3000 NE

N/A
$1705-$2105
Buy Now
Best Electric Composting Toilet Reviews
Non-Electric Best Composting Toilet for Off Grid
Buyer's Guide for Selecting the Best Composting Toilet
Portable vs. Self-Composting Toilets
While the terms portable and composting toilet may be used interchangeably, they are quite different in their functioning. A top rated composting toilet helps convert human waste into manure with the help of bacteria. The by-product can be used as a fertilizer for plants. On the other hand, a portable toilet simply collects liquid and solid waste but does nothing to treat it. While you may be able to semi-treat the waste to get rid of odor, the content ultimately needs to be emptied into a septic tank or sewage system. So when going for the best composting toilet, a portable toilet may be a good choice for camping or boating, but self-composting toilets are better suited for a tiny home and more permanent setups.
Space Availability
The best composting toilets today come in compact design but they still occupy more space than the standard toilets due to an additional holding tank. If you have very limited space, go for the best rated composting toilet that offers a front agitator handle. Also, if space permits, you can also consider investing in a split-system that has a central composting unit. These units can also be installed in garages and cabins and if you live in a warmer climate the tank can even be fitted outside. Though a little costly, it is worth investing in these top composting toilets as they can significantly increase the holding capacity and require less frequent cleaning.
Tank Capacity
Before you begin looking at the composting toilet reviews to get a composting toilet, you must know how many individuals will be using the toilet. The usage will determine what capacity the toilet will be best suited for your needs. Most of the manufacturers of the top rated composting toilets define the capacity according to family size and usage.
The best composting toilets in terms of capacity are definitely the split systems while the self-composting best waterless toilets with an average 5-gallon tank suffice regular usage by one or two adults. It is important to keep the capacity in mind since self-composting toilets need time to decompose the waste before they fill up completely.
Utility Setup
Selecting the best rated composting toilet also depends on utility. Some composting toilets use a small amount of water for flush while some of the best waterless toilets depend on electricity to power the inbuilt fan for aeration.  Also, the electrically powered toilets work either with AC, and the best composting toilet for off grid use work with both AC and DC. However, all these features come at extra cost and can add to your electricity bills. So, when shortlisting the best composting toilet for your needs keep your budget and the utility setup in mind. When going for a self-composting toilet, make sure that the composting material that it uses is easily available.
Odor Management
Top rated composting toilets are quite efficient at managing the odor of the gases that build up in the holding unit. Check the composting toilet reviews to be sure of your preferred toilet's performance in managing the odor. Go for the best composting toilets that come with an in-built fan to supply fresh oxygen to the tank and also to vent out the gases. Some of the best waterless toilets also require adding sawdust or peat to block to control the odor and to assist the decomposition. These materials will have to be bought separately.
Installation Guidelines
Some regions require special permission from the government to install composting toilets. You can check with the local sewage representative about the guidelines and also get the list of approved composting toilets. While the portable toilets are quite easy to install, the top composting toilets require more space than the standard flushing toilets. Therefore, you must have the precise measurement of the space where you intend to install your unit. Also, the composting toilets have a ventilation system; these toilets require sufficient space for the ventilation pipes to ensure proper odor management.
Construction Material
While the standard toilets are usually made of ceramic, most of the composting toilets are made of high-gloss polypropylene or ABS plastic. Some of the models may contain components made of stainless steel such as the fan or latches, but the body is usually made of plastic to keep them lightweight and portable. When selecting the best off grid composting toilet, do check the maximum weight capacity that the plastic body can withstand.
Price
If you are looking for a budget toilet, you may get several options in portable toilets that you can use for camping or in your RV. The self-composting toilets are usually more costly. Those with dual chambers for separate liquid and solid waste collection and with a ventilation system cost up to $1000. If you want to go for a permanent installation or split system, they are usually priced over $2000.
Frequently Asked Questions
Will a composting toilet make my RV smell?
The best rated composting toilets generate very little to no odor compared to the models that use water for disposal. However, odor control depends on ventilation and regular cleaning of the holding tank. To be sure you can check the composting toilet reviews before finalizing a model.
Can a composting toilet be used the same way as a traditional toilet?
In terms of usage both traditional and composting toilets work the same way. However, some of the top rated composting toilets have separate sections to collect solid and liquid waste. With such models, you may have to adjust your aim accordingly.
How does a composting toilet work?
A composting toilet has a holding tank that collects your solid waste. The waste is decomposed in this tank with the help of aerobic bacteria that break down the organic waste into a manure-like by-product. When the tank reaches its full capacity, this by-product is emptied and can be used as a fertilizer for the plants and for other uses.
How do you install a composting toilet?
Most of the portable toilets have a pretty straightforward installation. The self-composting best waterless toilets however need some work to install the ventilation pipes. Most of the manufacturers provide installation guides along with vent-pipe measurements.
Can you put toilet paper in a composting toilet?
Most of the best rated composting toilets can handle a moderate amount of toilet paper since they are biodegradable. It is better to use single-ply toilet paper with a composting toilet.
How long does a composting toilet take to break down waste?
While the bacteria start working immediately, the duration will depend on how frequently it is supplied with fresh waste. As per the composting toilet reviews on average it takes a few weeks to convert waste to humanure.
Where is a composting toilet emptied?
The byproduct can be used as compost for your garden. In case you do not want to use it as a fertilizer, you can check with the local code enforcement about adequate disposal. If allowed, you can also bag up the waste and throw it in the garbage.
Conclusion
Switching to a composting toilet comes with a myriad of benefits. Using the best waterless toilet helps you save water and cut down your water bills. You are putting your waste to good use and getting free fertilizer for your garden. You also help the environment since using composting toilets reduces the release of sewage in the waterways. Plus, selecting the best off grid composting toilet gives you independence from the sewage system, so you are free to install a toilet anywhere and carry it along wherever you go. So, if you are geared up to give back to nature, do go through the composting toilet reviews and then select from these top composting toilets that include the best composting toilet for off grid as well as for permanent installations.