Saniflo Reviews: 4 Best Saniflo Toilets Reviewed With Pros & Cons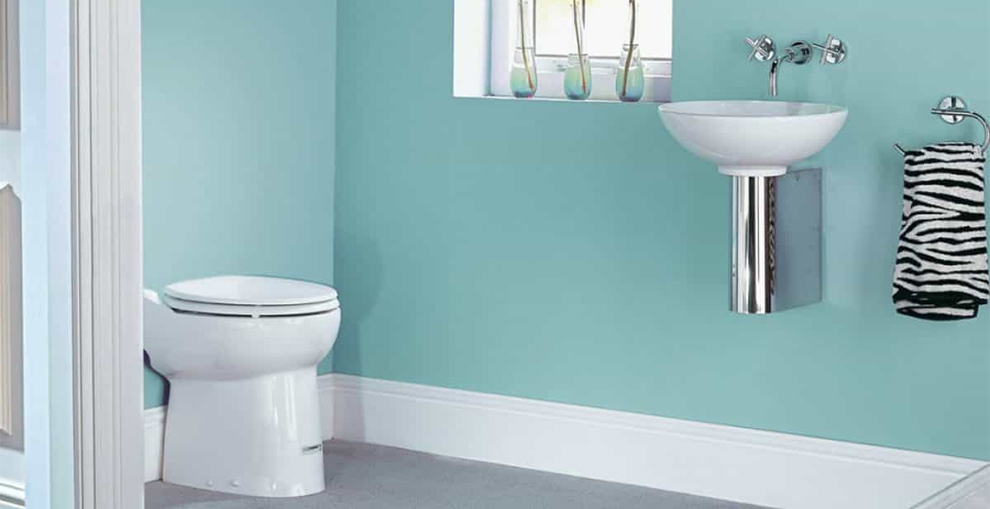 Saniflo revolutionized waste management years ago with its unique invention of macerating toilets. Since then, the company has worked relentlessly on its innovations and diversified the product range to offer some powerful and highly-efficient upflush toilets. These systems have made it possible to add a toilet almost anywhere in your home. If you have been planning to get a macerating toilet for a residential setup or commercial use, reading Saniflo toilets reviews can help you make a wise choice as there are plenty of options in the market that Saniflo toilets compete with.
But, before we begin with our Saniflo reviews for their most coveted products, let us first explain how a Saniflo toilet system works?
What Is a Saniflo Toilet System?
Instead of discharging the waste downwards directly into the sewage tank, a Saniflo toilet system directs the waste towards the back of the toilet into the macerator. A micro-switch activates the macerator which then grinds and reduces the waste into a slurry with the help of its strong steel blades rotating at a very high speed (3600RPM). The waste mixed with the flush water is then pumped out of the macerator up through a 1-inch PVC pipe to join the main sewage stack.  The revolutionary pump is strong enough to facilitate vertical pumping up to 15 feet and can cover a horizontal distance of 150 feet. A one-way valve also prevents any chances of backflow, keeping the entire process odor- and mess-free. A Saniflo toilet system can also handle waste from a shower, bath, sink, washing machine, and dishwasher.
Installing a Saniflo system is also simple and several Saniflo toilets review vouch that it can be done in less than 4 hours as it does not require breaking through bathroom floors or installing complex plumbing systems.
Quick Navigation
Saniflo toilet systems come in five main variants, Sanicompact, Sanibest Pro, SaniAcess2, SaniAcess3, and SaniPLUS. To select the best model for your home you must go through a handful of top Saniflo reviews. And to make your search easier, we did some research to give you detailed Saniflo reviews for four of these variants along with the features, pros, and cons of a Saniflo macerating toilet.
Best Saniflo Toilets Compared
| Product | Rating | Price | Buy Now |
| --- | --- | --- | --- |
| Saniflo 023 Sanicompact | 4.4 | $913.75 | Buy Now |
| Saniflo Saniacess2 | 4.5 | $1013.20 | Buy Now |
| Saniflo Saniplus Macerating Upflush Toilet Kit | 4.5 | $1088.00 | Buy Now |
| Saniflo SaniBest Pro | 4.3 | $1258.85 | Buy Now |
Top Saniflo Toilets Reviews
Features of Saniflo Toilets
Design/Materials
Most of the Saniflo reviews commend Saniflo systems for their compact design. Their smallest unit the Sanicompact self-contained toilet is especially lauded for its tankless design. Even those with a toilet tank can easily fit into tight dimensions. All Saniflo products feature a classic porcelain body that is highly durable and also complements the modern minimalistic bathrooms. The seat and seat cover offered by Saniflo is made of good quality plastic and the chrome trip levers offer smooth flush operation.
Flushing System
Standard toilets use the force of water and compressed air to flush out solid waste through the trapway into the wide sewage pipes. However, a macerating upflush toilet uses minimal water to transfer the waste from the bowl into the macerating unit. The macerator pump with its powerful blades grinds the waste and toilet paper to a sludge and a pump pulls it out and upwards to reach the main sewage system. The flushing mechanism is powered electronically and a timer prepares the toilet for the next use.
Cleaning
The upkeep of Saniflo macerating toilets is pretty much the same as that of standard toilets. A regular toilet cleaner works well to keep the bowl spotless and disinfected. The macerating unit is also easy to clean and can be cleaned once every month for areas that have hard water supply and once every three months in soft water areas. Plus, if your toilet is also connected to a sink or a bath, the extra water flow through the macerating unit works well for additional cleaning. If you live in a hard water area, you must also use a decalcifier once a year to descale the macerator blades and the impeller.
Consumption
As per the majority of Saniflo reviews, all Saniflo models help to cut down water bills. The water consumption is either 1.28 GPF or 1.6 GPF. The Sanicompact that comes with a dual flush uses 1 GPF for liquid waste and 1.28 for solid waste. However, since its mechanism works on a timer, these values are only an approximation.
Ease of Installation
Saniflo toilets have been invented to overcome the hurdle of installing toilets in areas that are not connected to the house's sewage system. Hence, their installation is pretty straightforward and quick; a Saniflo toilet can be installed in less than 90 minutes. In fact, most of the Saniflo reviews state that these toilets can be installed on your own by simply following their installation manuals.
All you need to do is secure four connections. The first step is connecting the macerator pump to the spigot of the horizontal outlet. The second step is connecting the toilet tank to the water supply. The third step will be to connect the macerating pump to the discharge pipe. And the last step is plugging the macerating pump into a power supply. Additionally, you can also connect the discharge pipe of the toilet with your sink, shower, or bath to manage greywater.
Saniflo Pros and Cons
Pros of Installing a Saniflo Toilet
All Saniflo reviews vouch for the fact that Saniflo toilets can be installed almost anywhere even in areas that were not intended to have a lavatory such as basements, garage, under the stairs, etc. Their installation can happen irrespective of the location of the drainage and plumbing system.
Saniflo toilets offer a free-standing ejection system that can bring down the installation cost to 50% in comparison to the installation of standard toilets.
Another benefit found common in all Saniflo toilets reviews is that they are highly portable, especially the all-in-one units like the Sanicompact.
Most of the Saniflo toilets guarantee 50,000 flushes. Hence, these toilets can easily last for 10 to 15 years, provided that they are given proper maintenance.
According to several Saniflo reviews, macerating toilets can help reduce both water and energy consumption. They are usually powered by a standard 110-115 V supply.
Since upflush toilets are not dependent on the force of water, they consume lesser water compared to the standard toilets. Therefore, these toilets can help you earn an energy-efficiency rating to qualify for an insurance discount.
Other bathroom fixtures can also be installed on most of the Saniflo products.
You can also install a Saniflo toilet for temporary needs even if there are no underground drains.
Cons of Installing a Saniflo Toilet
Even though Saniflo toilets do not require floor installation, the trouble of installing them with the existing system can be as troublesome as installing a standard toilet unless you have a separate drainage system available.
No matter how much the Saniflo reviews back their quiet performance; they are still noisier than the standard toilets.
If you do not abide by the usage instructions and dispose of other kinds of waste, macerating toilets are much more prone to getting clogged. Plus, the cost of repair is also high in case of any malfunctioning of the macerating unit due to clogging.
Several Saniflo toilets reviews agree that installing a standard toilet, including the installation cost and upgrading the plumbing system of your home is still less compared to the cost of Saniflo toilets.
All Saniflo toilets need to be flushed once every day to maintain their optimum performance, so if you plan to head out for a couple of days, you will have to check with the manufacturer on how to prevent the toilet mechanism from breaking down.
Saniflo only offers a 2-year warranty on the macerating unit and a 1-year warranty on the tank and the bowl which is quite less compared to warranties offered on standard toilets by KOHLER and other brands.
You cannot use a Saniflo toilet and other fixtures connected to it if the power goes off.
Before you make the purchase you need to check if your local building code allows the installation of a macerating toilet.
Conclusion
With that, we conclude our Saniflo reviews for the top Saniflo toilet kits. These toilets are suitable for homes that want to install a toilet in a spot that is far from the main drain line. Saniflo macerating units are also worth considering for users who are already using an upflush toilet and want to upgrade to a better macerating pump. However, these toilets will be of little help for users who already have a plumbing system in place and simply want to replace the toilet. As a new user, you must also weigh in the pros and cons of upflush toilets by reading more and more Saniflo reviews available online to be sure that you are making the right investment.